The Finest Concrete Floor Coatings Solutions – Flexico Perth
Almost all types of residential and commercial establishments are in need of concrete floor coatings to cover bare concrete for aesthetic reasons, comply with building codes and regulations or just for protective purposes. It is hard to decide what type of coating is best for you but with Flexico Perth, you will be assisted with their friendly staff and will give you an understanding of the differences of each type of coatings and the cost basis.
The concrete sealer which is the most basic coating, only requires the least amount of work to prepare the floor and apply the coating. It is the best option to protect the concrete floor from food stains, foot and vehicle traffic, chemical spills and makes cleaning much easier. This sealer also comes in various colours to choose from. However, there are also some concrete stains available that are used to enhance bare concrete with a natural, long lasting appearance. You can either choose popular acid stains or the more user friendly acrylic stains. These concrete stains penetrate on the floor which creates a very durable finish that cannot peel or fade away. Same thing with concrete sealer, stains require a little more preparation of work but application can be very simple.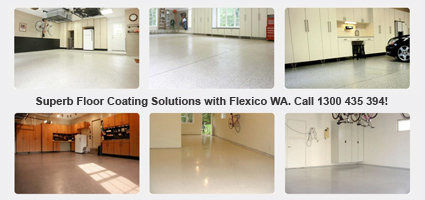 If you want concrete floor coating for garages and basements, Floor Coatings Perth also offers concrete paint or epoxy floor paint and their latest flooring technology, citadel floor coatings. The Citadel flooring product is resistant to salts, oil, petrol and other chemical contaminants. A wide variety of additives can be added into the Citadel flooring product to establish an unlimited amount of looks and superior quality. Although these types of floor coatings are bit expensive and requires tough work for preparation, this is one of the most durable coatings specifically designed for garages. With epoxies, these materials harden quickly and should only be used by flooring experts. On the other hand, the most expensive and difficult floor coating is an overlay. Under this category of overlays, concrete toppings come in various forms and types. The self levelling overlays are generally used as underlayments for other flooring or to fix damaged and uneven slabs while spray on overlays are normally used to create slip resistant surfaces that are easy on the feet and easy to clean. Moreover, color and stencils can also be used with spray on overlays for a customised surface and they are just one of many styles of decorative overlays. They are also commonly known as stampable overlays and decorative interior overlays.
Among the types of coatings, overlays require a lot of planning and can be laborious. Anyone can handle a basic overlay or almost any concrete floor coating using the proper tools and preparation but it is recommended to let flooring professionals do the job for better quality. For more information about Concrete Coating Perth, visit their website or call 1300 435 394.