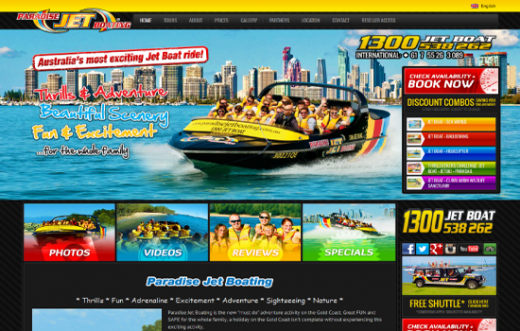 Paradise Jet Boating
"Beginning operations in 2004, Paradise Jet Boating was the first jet boat tour operator on the Gold Coast."
- Tony Johnson, Marketing
Paradise Jet Boating
SEO Case Study
Beginning operations in 2004, Paradise Jet Boating was the first jet boat tour operator on the Gold Coast.
We now have a team of 13 employees, a fleet of three vessels, a purpose designed 'Adventure Terminal', our  Cavill Mall retail outlet and the unique 'Super Jeep'.
LARGEST – 
With a capacity of over 500 pax per day we are the largest oper
ator in Queensland and the second largest in Australia. After almost 150,000 passengers, we have the experience & ability to provide you with a safe and exciting adventure.  
SAFETY –
 Passenger Safety is our priority… all of our passengers wear life jackets.  
BOATS –
 Our 3 vessels are fast, agile and capable of full 360° spins. Better maintenance means higher levels of safety, comfort & performance. Our newest vessel is the fastest, most maneuverable & most advanced Jet Boat in Australia.  
SKIPPERS –
 All of our drivers are highly trained, full-time, professional & friendly skippers. We don't use part-time, casual or seasonal drivers.  
NEW RIDE OPTIONS –
 We recently revamped our sister brand, 'Extreme Jetboating' & now offer a new budget tour.  
AWARDS –
 We competed in the prestigious Queensland Tourism Awards in 2011 & 2012. We are proud to be runners-up in both "Adventure Tourism" and "Tour or Transport Operator" categories for both years.  
CERTIFIED –
 Government approved to tour through the protected Moreton Bay Marine Park. The Morton Bay Marine Park (as shown on the map on the tours page) is a beautiful and picturesque part of the Broadwater. It has less traffic, is more natural and a favoured area of dolphins and other wildlife.We are the only operator to include this beautiful section of the Broadwater.
Visit: http://www.paradisejetboating.com.au
---
Read more of our Case Studies:
« Skins2Go – Online Store - All Case Studies - Cloud 9 Bookkeeping Gold Coast »