Synthetic Grass Pro One Tennis Court Surfacing Solutions
Pro One are the experts you can trust for all of your surfacing needs and solutions, as well as shading structures. They have a reputation for their high quality of work and diligence when it comes to completing tasks on time. Although bassed in South East Queensland, Pro One have completed tasks in areas throughout Australia, and even for clients internationally in places such as Fiji and New Zealand. They specialise more specifically in: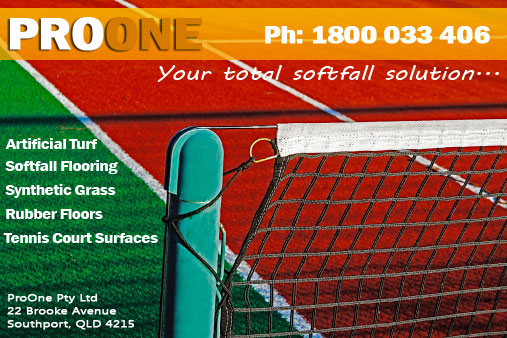 Synthetic grass is a clever alternative to grass, and it becoming a more prevalent surfacing solution. A popular choice for schools, kindergartens, and other institutes that require surfacing for spacious outdoor areas and child-friendly playground environments, synthetic grass looks good and is easy to maintain. The maintenance of real grass can become very time consuming and sometimes costly, so artificial grass is efficient in this way. Real grass may contain pests, pollen, and other potentially unsafe things, rendering it a possible hazard in places where there are many children. As time goes on, synthetic grass is being developed to a higher standard, making it even more user friendly. It is UV stabalised in order to tolerate the harsh Australian weather better. Pro One synthetic grass can be laid on concrete or bitumen or a crusher dust base, and all of the grass used in Pro One's projects consist of locally made products.
For more information on Pro One's synthetic grass and other surfacing projects and services, visit the website at ProOne.com.au or give them a call on 1800 033 406.